Today, we're talking Peppermint Chocolate Madeleines! A rich chocolate madeleine, dipped in white chocolate with crushed candy canes sprinkled on top – what more can you ask for?
Hi, it's your resident Christmas junkie here! I'm so excited to share this Peppermint Chocolate Madeleine Recipe with you. I have a real soft spot in my heart for madeleines, so I think it only made sense to Christmas-ify it.
These French sponge cakes are well-known for their distinct shell shape. There are many variations of this beautiful little cake — all butter, lemon, orange blossom, vanilla… the possibilities are endless here!
Next Saturday is Frank's family's holiday palooza, which means their baking competition is just around the corner. That's right! It's a competition, not an exchange. The winner gets a trophy and of course, bragging rights. Now, I'm a pretty competitive person so this is a BIG deal for me. To give you some context, here are a couple of things I've baked for the competition in the past (this was pre-DSLR, mind you):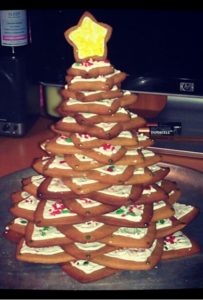 In case you're wondering, that's a gingerbread cookie tree and Santa hat brownies, respectively. And FYI, the gingerbread cookie tree helped me clinch the win! Frank was gracious enough to stay up late with me to help ice and decorate the cookies. Regardless of the back pain we both suffered that night, it was totally worth it. Frank might tell you otherwise, though.
Needless to say, I've been racking my brain for something new and exciting to make this year. I think I may have found just the thing with these madeleines!
Folks tend to think that madeleines are hard to make. I'm here to tell you that that is not the case at all! The only "hard" part is actually investing in a madeleine pan, but I think you'll find that the investment is worth it once you see how easy they are to make.
The batter comes together quickly and the bake time is super fast (7 minutes!). Once they're cool, the only thing left to do is dip them in white chocolate and then sprinkle crushed candy cane bits on top. I have a little secret to share with you: I didn't think to use crushed candy canes at first. Last night, I picked up a jar of sparkling red sugar when I was at the grocery store and thought to use that as the topper.
The idea of using crushed candy canes struck me at the last minute and boy, am I glad it did. It introduces a crunchy texture that goes really well with the pillowy softness of the madeleine and as a huge bonus: it turns a plain old chocolate madeleine into a peppermint chocolate madeleine! I'm a sucker for mint chocolate.
Frank typically isn't a fan of mint chocolate, but he really liked these! The chocolate flavor is bold, but not overpowering. As with my recipe for The Best Chocolate Crinkle Cookies from last week, you'll want to use a couple of teaspoons of espresso powder here to amplify the chocolate flavor. These would go really well with a hot cup of coffee.
Right now, I'm definitely feeling torn between these madeleines and the crinkle cookies. With that being said, there's still a whole week until the competition, so I've got plenty of time to mull it over and try new recipes.
I hope you give these madeleines a try (and if you do, let me know by leaving a comment below and rating the recipe)! If you don't have a madeleine pan, you can always use a cupcake or mini-muffin pan (just make sure to monitor the bake time closely).
Happy baking!
This post contains affiliate links. If you make purchase through the link, I will receive a commission which will help me support the blog at no additional cost to you. 
Print
Peppermint Chocolate Madeleines
Author:

Ann

Prep Time:

75 minutes

Total Time:

130 minutes

Yield:

36

madeleines

1

x

Category:

Dessert

Method:

Baking

Cuisine:

French
---
Description
A rich chocolate madeleine dipped in white chocolate and topped with crushed candy canes. These are sure to be a holiday favorite! Make sure to add espresso powder to up the chocolate flavor.
---
12 tablespoons

unsalted butter (melted and cooled)

3/4 cup

all-purpose flour

1/2 cup

unsweetened cocoa powder

2 teaspoons

espresso powder

1/4 teaspoon

salt

4

large eggs

1 cup

granulated sugar

1 1/2 teaspoon

vanilla extract

3

large candy canes (crushed)

8 ounces

white chocolate (coarsely chopped*)
---
Instructions
Melt the butter in a heatproof bowl. I recommend cutting the butter up first. No need to be precise here! Just cut the butter up into thick slices so they can easily break down. Microwave in 15 second increments until the butter has completely melted, making sure to stir after each increment. Cover the bowl and refrigerate while you follow the next steps.
In a medium bowl, sift together the flour, cocoa powder, espresso powder, and salt.
In the bowl of an electric mixer, whisk together the eggs, sugar, and vanilla extract at medium speed for 3-5 minutes until the mixture is thick and lemon-colored.
Add the flour mixture and melted butter to the egg mixture. Whisk at medium speed until combined.
Cover the batter and refrigerate for at least 1 hour (up to 12 hours).
Right before taking the batter out, preheat the oven to 425F. Spray the madeleine pan with nonstick cooking spray. I use the kind that contains flour. You can butter the pan and sprinkle it with a bit of flour, but I found that the madeleines slipped right out when I used nonstick spray instead.
Fill each shell with 2 tablespoons of batter (or use a #40 cookie scoop), so that they're about 3/4 full.
Bake for 7 minutes, or until they spring back when you press a finger down on the madeleine.
Turn the madeleines out immediately from the pan and place them on a cooling rack. Wipe down the pan and continue baking until all of the batter has been used.
While the madeleines cool, place 3 large candy canes in a zip-top bag and use a rolling pin to crush the candy canes. Rolling over the candy canes a few times should do the trick! Set the crushed candy canes aside in a small bowl.
Melt the white chocolate in a double boiler or microwave. If you're using a microwave, place the chocolate in a heatproof bowl and microwave in 15 second increments, stirring after every increment until the chocolate is melted and smooth.
Take out a large sheet of parchment paper and place it on a baking sheet. This is where you'll be placing the dipped/decorated madeleines.
Dip the madeleines into the white chocolate, about halfway up. Sprinkle the crushed candy canes on top of the chocolate. Place the baking sheet into the refrigerator to set the chocolate, about 10 minutes.
---
Notes
*I used Ghirardelli's White Chocolate Baking Bar. I haven't tried this with a regular bar of white chocolate, but I expect that will work just fine!
Store the cookies in an airtight container at room temperature or in the refrigerator. If storing in the refrigerator, allow the cookies to thaw (about 10-15 minutes) before serving.
---
Madeleine recipe adapted from Epicurious.
Keywords: Peppermint Chocolate Madeleines
Recipe Card powered by